Omicron is very different from those variants we have seen before. There are 50 mutations, 32 of which are on the 1273 amino acid building blocks on the Spike protein which means it will behave differently. Delta had just 9. Ten out of the 273 amino acids in the RBD protein which attaches itself to our ACE receptors are new. Thats worrying, so whats the latest?
As I write there are 104 cases in England, with inevitable evidence of community transmission. Half are in the double vaccinated, though few more details are available. These cases are isolating at home and we will now wait to see how they, and the new few hundred and thousands of cases fare in terms of illness. That 50% of cases are in the 20% who are unvaccinated is a little encouraging for those who are double or triple jabbed.
Transmissibility – Like Delta, it is likely to reproduce faster, thus create larger viral loads and so more viruses to share with others. It certainly seems to be more transmissible – the new South African wave seems to confirm this. Opinions vary, but it seems to be twice as transmissible as Delta. This is a worry for sick leave and complications affecting key workers.
Virulence. With cases increasing rapidly, we now have to see how many will end up in hospital or worse, and how many will develop long COVID19. There is no detectable signal as yet. Early signs point to a milder illness – but in SA most cases are in the young, so that is not that robust.
Vaccine escape -Vaccines, as with Delta, are less likely to be as effectve as the variants they were initially designed for, but are thought to be effective agains more severe illness. In the UK we are lucky to be getting boosters and early results from the booster campaign are impressive, so it is likely that, even if less effective against getting the infection, it will continue to prevent severe illness. How long they will be effective for is the next question.
It makes sense to take as many precautions as we reasonably can as the next few weeks roll by.
Where did it come from – another look
Where SARS-Cov-2 came from was one of the big stories at the start of the pandemic – the latest evidence shows that origin in the wild is more likely – the early cluster of cases were from the food market and most of them in the section where the racoon dogs were sold. The uncertainty has stoked much controversy and blame, and fuelled conspiracies.
Im getting in early this time to ask where did the latest variant come from?
Not that this is a blame game, far from it. Understanding where the new variant came from is important and may well be impossible to pinpoint. South Africans feel aggrieved that their advanced genomic testing was first to detect the variant, and they have been 'punished' for it by a travel clampdown which threatens their ability – you guessed it – to continue testing. They are running out of reagents!
It may have come from other African nations whose surveillance is way below their South African neighbours. It now popping up all over the world at pretty much the same time it may have originated elswhere. Given that, travel bans may be, apart from their environmental advantages, as waste of time, though testing before and after boarding seems sensible to mandate.
It is very possible to have come from an unfortunate person who had COVID19 long enough for mutations to take place, as thought likely in what was called, at that time, the Kent variant. An American woman had an infection for over a year, due to previous aggressive treatment for Lymphoma, and variants developed as they incubated within her. Happily, she survived.
In South Africa 5.2 million people are currently under treatment for HIV/AIDS and there are quite a few treatment resistant cases. One of these had an active COVID19 infection for over 200 days before it was cleared, and many of the mutations occurred in her viruses over that time. There is, however, another possibility.
Oh Deer!
Could it be that Sars-Cov-2 is jumping from humans to other animals, and possibly back. In the US, last Autumn, it was found in 80% of white deer. This potentially means there is a huge population of animals out there who can not only act as reservoirs, but can also provide conditions ripe for more significant mutations that in humans. The deer seem unaffected, so chronic infections may be more common and so more mutations, which then can bounce back to humans.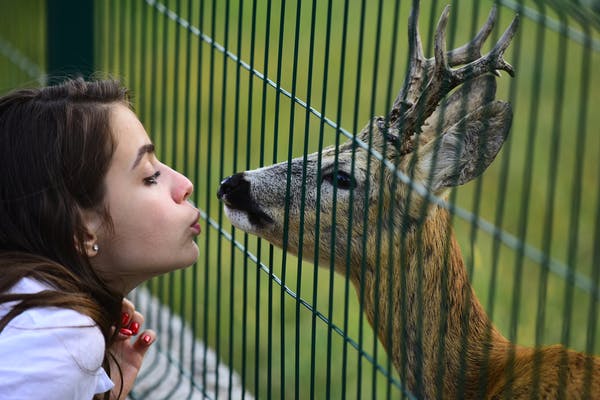 Definitely not a good idea!
I just hope the Americans don't react to this by announcing a mass cull of deer, as they did with Geese after the Hudson River air crash, portrayed in the Tom Hanks film "Sully". Following that, they killed over 70,000 geese in a futile attempt to control our declining relationship with nature.