SUMMARY
Release of restrictions are causing freedom for many and misery for some with 900 daily hospitalisations, and 90 deaths a day.
Immunity from vaccination and wild infection are having a positive impact in the face of a more transmissible variant.
Super spreading will be turned back to full on with the new school term. It will be an interesting month.
Vaccination continues to be effective.
While science continues to be fascinating, politics is becoming more dangerous. There are Taliban style health measures in Texas.
Introduction
Our experiment with SARS2, this tiny ball shaped virus measuring about 70 millionths of a millimetre (making it to a human being what a chicken is to the entire planet) rumbles on as we approach the decisive time of the year.
There are still plenty of cases, moderate levels of hospital admissions and although less deaths, about 700 people a week are dying with COVID19 listed on their death certificate.
The virus infects anyone who it comes across who cannot destroy it; the more people it can jump to the more infections there will be, so our fifth wave, emerging out of the fourth is a disappointment though not a surprise. There are lots of people out there getting infected, almost all with the far stickier Delta variant.
I have heard of two Boardmasters festival attendees who have been infected, and friends too, all thankfully recovering from festival fun and its aftermath.


Here in Devon and Cornwall we are high in the league of infection rates right now due to travel, tourists and tourism.
The familiar plot of cases over time hints that we may be at the peak of the fifth wave, though this might change as the school terms starts next week.

Fingers crossed all around!
Adding to this is the vast human contact from sport. The football season is under way and the weekly 10 games in the premier league alone will have seen about 300,000 visitors to crowded stadiums. In 2019 there were about 30,000,000 attendances at football matches alone. Cricket too is also back with crowded venues for the Indian Test series with singing shouting and no social distancing. This adds to the contacts involved in transport involved, in the streets approaching the stadia and associated pubs and eateries before and after the occasion.
Super spreading society
So with restrictions ended we are heading back to our 'normal' super-spreading society as the winter approaches. I hope that the high numbers of people with immunity will mean that once this wave falls, then we will be ready for the respiratory season where RSV, flu and the other viruses in the wings may well make a comeback.
The JCVI, (the independent vaccination experts) are clear that the benefits of vaccination for robust 12-18 year olds are insufficient to recommend vaccination in this age group. Despite this the Government might go ahead anyway, relegating the science to the needs of education, though this could be achieved by stopping the testing mayhem in schools and ensuring that children stay at home when suffering symptoms only.
It's a sort of bodged Barrington by the back door, though more reasonable with high levels of vaccination. We shall see.
Delta versus Alpha
Epidemiologists have published a study in the Lancet comparing rates of hospitalisation according to variant. They looked at data from 43,000 patients; 8,700 with Delta and 35,000 Alpha. They median age was 31 years and the rate of admission was 2.2%. When adjusted for age and other variables, the risk of needing hospital care was just over doubled for the Delta variant. This study was performed in between March and May since when the Delta variant has become dominant.
Importantly, 73% of those testing positive were unvaccinated. They conclude:
"Results suggest that outbreaks of the delta variant in unvaccinated populations might lead to a greater burden on health-care services than the alpha variant."
In other words, vaccination continues to work. Vaccinated people who get infected have decreased positive viral cultures of nasal swabs (68%) versus unvaccinated healthcare workers (85%), in other words, despite having similar viral loads, these are similar for a shorter time and these results strongly suggest the vaccinated are likely to be less infective to others.
Is vaccine effectiveness waning? In the US, in 1,129 patients who received 2 doses of a mRNA vaccine, no decline in vaccine effectiveness against COVID-19 hospitalisation was observed over 24 weeks. Vaccine effectiveness was 86% 2–12 weeks after vaccination and 84% at 13–24 weeks. Vaccine effectiveness was sustained among groups at risk for severe COVID-19.
Nevertheless, there are concerns about waning immunity, but protection against symptomatic infection are still running at 80% for Pfizer and 60% for the AZO vaccine. All vaccines are still effective at reducing death by over 85% irrespective of variant. Quite an achievement! I hope that immunity based on T and B cells will mean serious illness will continue to decline as we learn to live with the virus.
Thankfully, even with a more pathogenic variant, deaths are low this time.

This has to be due to immunity from vaccination and infection.
Nature knows best?
That immunity from risky natural infection is 'better' comes from the earliest and most vaccinated nation, Israel. This report sums the situation, though the retrospective data used leaves much to be desired and the numbers are low so there is much uncertainty.
Looking back at the records of 32,000 patients they found 8 admissions with COVID19 in those vaccinated compared to 1 in those with previous infection only. The headline that vaccinated were 8 times more likely to be hospitalised than unvaccinated people who were previously infected is a little disingenuous even if mathematically correct. That admission rates are low overall is encouraging, and as I have mentioned before, the vaccinated group will include just about all the elderly and frail, who remain the most at risk.
Another study also suggests that those vaccinated are 13 times more likely to get infected than those with previous infection, but again the numbers were small, 238 versus 19 out of a study population of 670,000. The data suggest vaccinated had more co-morbidities but there is no breakdown of the ages – vaccinated people tend to be older and frailer.
Plus of course, the 'previously infected' group will not include those who have died of infection or its complications, or those who continue to isolate and take extra precautions and so avoid repeat infection. A further point is that those who are unvaccinated are more sceptic so less likely to report symptoms or get tested.
In summary, immunity gained from infection is likely to be more comprehensive for the individual, more so with those who survive severe infections, but vaccination is better for the population and many times less likely to do harm.
Working with nature is better
The study above also showed that those who had wild infection followed by a single mRNA vaccine gained additional protection and shows that though nature knows best, working with nature can be better. Another lab study showed that sera from those who had natural infection followed by a mRNA vaccine were better able to prevent infection against many different types of spike protein variants.
Perhaps vaccination is rather like a seat belt in a car, and natural infection the airbag.

Again, I would far rather have a vaccination than risk infection with an unpleasant illness, hospitalisation, long covid and death.
We will have to wait to see the data for outcomes in those infected after vaccination, but protection against hospitalisation seems to be holding up well.
Behaviour
Getting out and about it is clear that whatever the government advise, mask wearing remains common. This ONS data shows how behaviour has changed.
It remains problematical that 35% of people would not consider self isolating even if they had symptoms of COVID. There will be many reasons for this, most I suspect will be financial, but also denial and plain stupidity has to play a part. The 35% can reasonably be called super-spreaders.
Evidence that masks makes a difference comes from this study in Bangladesh where masking advice, and wearing of masks was show to be useful, backing up data that shows how this is a reasonable tool in preventing spread.
They found that in villages randomised to surgical masks, the relative reduction was 11.2% overall and 34.7% among individuals 60+ which provided encouragement for mask wearing when needed.
Vaccination and pregnancy
One of the many scare stories from the anti vaccine lobby has been concerns that vaccination causes miscarriage. This is on the basis of self reported events of miscarriage which are sadly a common event in pregnancy. There is no biological mechanism by which this takes place and no evidence from trials that this is true.
This preliminary study is reassuring for those considering pregnancy and vaccination. Problems with pregnancy, starting with miscarriage and going on to stillbirths and congenital abnormalities were no more common in the vaccinated group of women. Certainly, there seems to be no increase in the rate of miscarriage, despite misrepresention by anti vaccine groups who will, Im sure continue to do their best to create fear.
Vaccine Apartheid
Biology is clear that we are all in this together as a global community and there have been lots of positive statements on vaccine sharing. Although the term Apartheid is overused a bit today, the idea of a 'first world' and the rest is certainly playing out in terms of the supply of vaccines. Vaccines are accumulating and hoarding is the order of the day in western nations.
This graphic shows the phenomenal number of surplus vaccines lying in fridges doing nothing. It shows the surplus by manufacturer on the right and by nation on the left. The accumulation seems to bereft of any economic or scientific or moral sense, even if one considers the needs for boosters.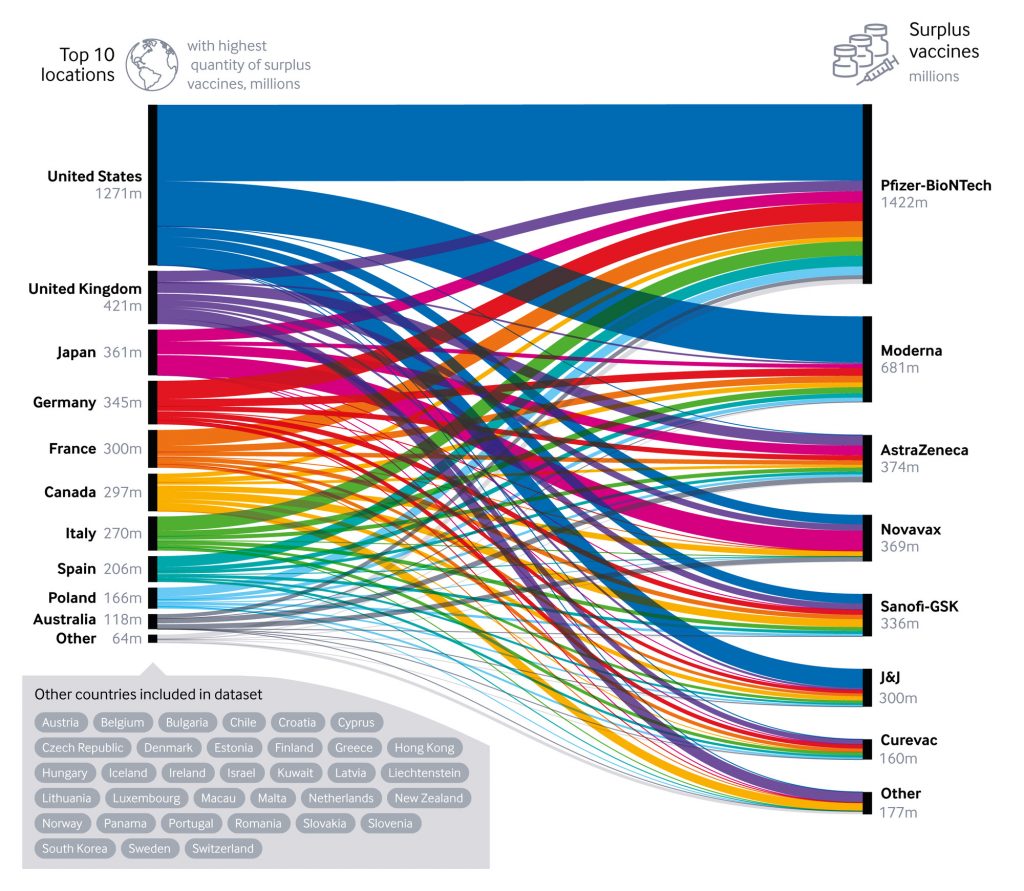 Inequality is a pro viral political policy
Meanwhile, the pandemic over here found rich pastures in our overcrowded homes, made worse by years of cuts in housing benefits and the notorious bedroom tax. The increased number of people per home in poorer areas has led to higher rates of infection with downstream admissions, deaths and lingering symptoms. Will this knowledge usher in a new ago of better politics? It doesnt seem so. The Government are resisting calls to continue the £20 added to Universal Benefit which, despite bipartisan support, will soon be coming to an end. Unbelievably, the Government call this "supporting people back to work'.
In the US, a small study shows that there has been a reduction in the IQ of children born during the pandemic, but I suspect the methodology will be greatly questioned. It might well add little to the knowledge that much of modern life reduces a child's IQ against and individuals full potential, including western diet, air pollution, the plastic biome, dangerous living environments, excess time spent in front of screens and not interacting with others.
Anti anti vaccine
Meanwhile, much fear and paranoia continues to be created by the pandemic of misinformation. Dr Mercola lead the way on this, and I keep up to date will most anti vaccine sentiment as well as associated conspiracy theories on his website. He also now claims the mantle of martyr to the greater good made fashionable and indeed, profitable by the fraud Andrew Wakefield.
He recently surprisingly announced that he will be deleting all his daily anti vaccine posts after 48 hours and I note there in now no search engine on the site.
This took place after journalists tried to interview Dr Mercola following a newspaper article highlighted his extreme anti vaccine views. He has been cited as a main source of anti vaccine news, but other than that the challenge to his freedom of speech seems illusory. I wonder this will increase sales of his book? Everything, even fear, is monetised in the US.
Mercola's gladiatorial approach to health is not matched by any word of challenge to the unprecedented loss of freedom on the ground for women in Texas…
The Texan Taliban
In Texas, religious extremists and the Republican Party have brought into law a draconian removal of abortion rights and enable persecution of women seeking help with unwanted pregnancies in a hyper sexualised culture.
It is called he Heartbeat Act as it allows prosecution of any woman who has a termination over 6 weeks, despite termination before six weeks being almost impossible to obtain – its just two weeks after a missed period.
The law enables law suits to be brought against anyone who discusses abortion with women, anyone who helps them in any way, and even anyone who gives them a lift to the clinic, and leads to $10,000 fines. If the 'accused' are not found guilty they are not permitted to recoup their legal costs.
This allows prosecution, not by the state, but by any citizen who wants to do so. The Supreme court failed to intervene, loaded as they are with right wing Trump appointees. There can be little doubt this will take Texan women back to the time of backstreet abortions, complications and death. Those suffering problems after unsupervised abortions will be reluctant to seek medical help, or ask for advice, knowing that if they do, extremists will be ready with their lawyers.
The law permits anyone to sue anyone who has advised or helps in any way any woman who wants to as much as discuss abortion, or procure an abortion, even if not performed in that state.


It encourages vigilantes and extremism despite most Texans being supportive of abortion services and is a policy the Taliban would be proud of!
Mercola's and other anti vaccine proponents complaints about illusory loss of freedoms pale into insignificance when compared with the legally enforced persecution which will be experienced by women in the US. They will be forced to carry unwanted pregnancies to term even if conceived after rape or incest.
It is persecution of the most vulnerable by the most powerful and a horrific example of the pervasive cancer of anti-science which lies at the heart of religious extremism, all over the world.